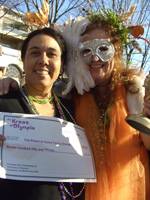 Thanks to the Northwest Arkansas community, Peace at Home Family Shelter has seen a dramatic increase in clients who wish to create better lives for themselves and their children. Over the past two years, their crisis calls have doubled, referrals have increased 79%, community clients have increased 11 fold, and the shelter is full or near capacity most nights.
With the help of concerned citizens, groups, churches, and corporations, Peace at Home Family Shelter gets one step closer each day to fulfilling their mission to END family violence.
If you would like to support the shelter by becoming a sponsor of the Krewe of Olympia this year, please contact us by email HERE. 100% of all donations from corporate sponsors will go directly to the current charity we choose to support.